Please note:
The firmware update will remove the warranty from your mobile.
(I am not responsible for any damage caused to your phone, use at your own risk)
Preparation before entering the firmware update process:
Charge you Battery to full (min 50%)
Pull the SIM card and an external memory Out.
Firmware update will delete the files and settings in the media and settings to default. Including contacts stored in the phone so do backup first using MyPhoneExplorer.exe. Later after the firmware update is complete, the backup file can be returned to again in the mobile phone.
Firmware update process may fail and your phone will not work if the computer dies / die or restart. Use UPS when possible.
Tools needed:
A2uploader
DCU-60 or DCU-65
G502 Handphone
Download Files Needed....
1.
A2uploader
, used to send files and backup files from the Sony Ericsson paltform A200 mobiles. +
USB Flash Drives
2.
Flash theme , Simply go to this
link
and download compatible flash theme.
3.
Audio
Accustic
More Better for G502 was taken from the firemware SE W980 series
4.
Better
Camera
for G502, taken from the firemware SE K series
5.
Accustic
Original
G502, taken from the original Sony Ericsson G502 (IF you like originals)
6.
Other
Flash Theme
for Sony Ericsson paltform A200
7.
G502 Firmware R1FA037 Main
8.
G502 Firmware R1FA037 FS
9.
Customize ID G502 (this pack is for ppl in Indonesia. please find your custom pack from below)
You have to match



1) EROM CID




2) EROM COLOR




3) REGION CODE




Region Codes
: Firmwares are designed for different languages and specific regions.
If you want to
debrand
your phone you have to use GENERIC firmware files.
Check out the
Languages Description
find out which region you are in.
Click here for help picking the right CDA.
Oki lets Start !!!.



Step 1
Open A2uploader
Click Add, and enter the both
R1FA037 Main
and
R1FA037 FS
into A2uploader
(Click to Enlarge)
Click the Flash, and then plug the USB cable to the mobile key while pressing 2 (Or a combination of key 2 and 5).
When Flash starts the process (will flash xxx block) as the picture below.
(Click to Enlarge)

Wait until flash process is finish, DO NOT disturb the computer. Flash process is complete after when message appear
ssw file accepted
Elapsed: XX secs.
(Click to Enlarge)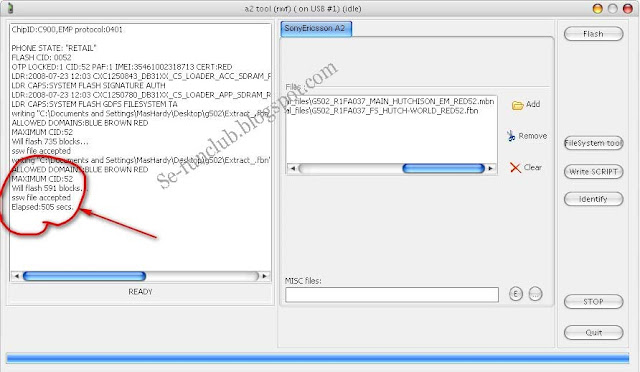 Step 2
Close A2uploader software and pull the USB cable from phone. The MEdia Net start first, can hang up.
Open A2uploader again, and then click File System Tools .
Connect the data cable to G502 while pressing the button 2.
When ok, A2uploader will display as
READY
.
Navigate to TPA / preset / custom
Drag and drop the Customization files G502 for your country region.
(Click to Enlarge)
Then it looks like this
(Click to Enlarge)
Step 3
Click Shutdown FS Manager, and pull the USB cable from mobile
The process is completed Your mobile is now DONE flash.
Turn you mobile on and wait 2 to5 minutes for the update of latest firmware settings.

Step 4
Now you can restore your backup files.
The End
100% working
eset nod32 username and password
from
http://esetnod32password.blogspot.com